Objectives
Discuss and identify major analytical instruments
Discuss miscellaneous/specialty instruments
Activity — PID/Instrument ID
Test review
Reading
Terms to Know and Discuss
Hand-Held, In-Line
Visual, photometric
pH, ORP, Conductivity
Opacity, Turbidity
Chromatograph, Spectrometer
CEMS, personnel monitors
Quantitative, Qualitative
Rectilinear speed, Rotational speed
Why Monitor Analytical Variables?
Environmental Monitoring/Reporting
Mechanical integrity of Fixed Equipment
Economics
Product Quality Assurance
Which reason do you think is most important?
CEMS
Continuous Environmental Monitoring Systems
Reports emissions for EPA guidelines
Sometimes on stacks, emissions from fired equipment
Other systems required by regulation
Mechanical Integrity
Monitor corrosion rates
Monitor corrosive atmospheres/liquids
Monitor vibration, other indicators for rotating equipment
Economics
Find problems real-time
Correct problems real-time
Save money
Product Quality
Test finished products
Test production streams
May be dozens of parameters on products like fuels, chemicals
Qualitative vs. Quantitative
Qualitative
To trigger response
To make conversation
Normal discussions
Quantitative
To analyze in detail
To make process corrections
Examples
Baby, It's cold outside (qualitative)
It's -47 °F outside (quantitative)
There is benzene present in the air in the lab (qualitative)
There is 0.5 ppb benzene present in the air in the lab (quantitative)
Sampling System
Obtain a representative sample from the process stream.
Transport the sample to the analyzer while maintaining its physical/chemical integrity.
Analyze the sample.
Return the sample to the process or discard it appropriately.
In-Line Instrument
In-Line instruments are permanently installed within the process unit.
The data from in-line instruments is used in product quality control, and/or environmental reporting.
Personal Monitor
Personal Dosimeter to Monitor VOC exposure
Employee wears dosimeter during regular work for required time period, then it is sent away for analysis —
Determines TWA, STEL readings —
QUANTITATIVE ANALYSIS
Lab Instrument
pH
pH — acidity measurement — hydrogen ions specifically
Water systems and processes
Indications of corrosion, scaling issues
Scale = 0 to 14

<7 = Acid
>7 = Base (caustic)
7 = neutral
ORP — Oxidation-Reduction Potential
Ratio of reducing agents to oxidizing agents in the sample
Free electron concentration
Similar to acid/base analysis
Chromatography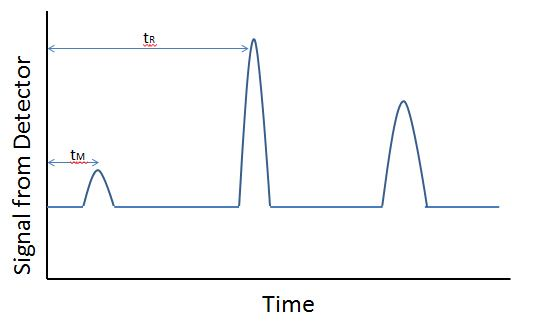 Chromatography separates mixtures into components by forcing them through a 'packed column'.
Gas flows through column, pushes material through — heavier molecules take longer to move through
As stream exits the column, different types of detectors used to read amount of material.
Data = time through column, size of peak on chart
Time through column = identify component
Size of peak on chart = amount of component
Use calibration standards to identify and quantify
Other methods of separation — ability to adsorb onto column, polarity, etc — same principles
| | | |
| --- | --- | --- |
| pH   meter | A | Measures the amount of particulate matter in a gas stream by measuring the transmittance or absorption of light through the material |
| ORP meter | B | Measures the ratio of reducing agents to oxidizing agents |
| Conductivity meter | C | Separates the molecular components of a liquid or gas by forcing them through a packed column. |
| Chromatograph | D | Measures the hydrogen ion concentration |
| Turbidity analyzer | E | Measures the ability of a solution to conduct electricity |
| Opacity analyzer | F | Measures the amount of particulate matter in a liquid stream by measuring the amount of transmittance or absorption of light through the material |
Vibration Monitors
Why is it important to monitor vibration on rotating equipment?
Excessive vibration is a sign that equipment is out of alignment
Excessive vibration is a sign that equipment is wearing out — could fail
Rotation/Speed monitors
Rectilinear = speed in a straight line — velocity

i.e. meters/second, feet/sec

Rotational = speed of revolution, for rotating equipment like pumps, motors